from Jack Canson and Sam, this morning - 3/27/14
Dear Friends of Caddo Lake,
You may have heard about the terrible threat Caddo Lake is under from the invasive aquatic plant giant salvinia. Last summer and fall over 6,000 acres of the Texas side alone of Caddo were covered by giant salvinia. This plant, which can double its mass every four or five days during peak growing conditions, is the most serious problem ever to face Caddo Lake. Salvinia depletes oxygen and blocks sunlight from penetrating the surface. No fish or other plants can live under giant salvinia. Some of Caddo Lake's most picturesque shallow backwater areas are in peril of being lost forever if giant salvinia is not brought under control soon. Conditions were so bad that for several weeks this Fall you could stand on the dock at Johnson's Ranch marina in Uncertain and not see water in any direction.
Everything you can imagine has been tried to control giant salvinia at Caddo Lake, as you can see in this 13 minute video, aptly titled "Last Chance to Save Caddo Lake." https://www.youtube.com/watch?v=DaDXI-mzG9U
The one control measure that has had success in research trials at Caddo is the use of salvinia weevils. Salvinia weevils are being used around the world to control giant salvinia, including in south Louisiana and Texas. Because Caddo Lake is at a latitude where we sometimes have winters as cold as the one we have just experienced, the use of weevils here got off to a slow start. But research conducted by Texas A&M over the last several years has demonstrated that cold-tolerant weevils are multiplying and surviving on Caddo Lake.
The winter of 2013—2014 has temporarily reduced the amount of giant salvinia, but all experts familiar with conditions at Caddo Lake predict that by mid-summer we will once again be infested with 6,000 or more acres. Conditions will be worse in the fragile Cypress brakes that are inaccessible to spray boats are mechanical harvesters. Only the giant salvinia weevil can attack and reduce salvinia in these areas.
The Greater Caddo Lake Association of Texas is now building and will operate a weevil hatchery greenhouse adjacent to Shady Glade Resort in Uncertain to help produce weevils that will be applied to the most vulnerable areas of the lake. It is imperative that this weevil hatchery be up and running and producing weevils as soon as possible. Please watch the above video and help support this operation.
You can also help with our fundraising and education by purchasing Caddo Lake Weevil Rancher tee shirts. These shirts can be obtained on eBay for $20 S&H included. Please specify sizes desired. (Small, Medium, Large, XL, XXL)
http://www.ebay.com/sch/i.html?_trksid=m570.l3201&_nkw=caddo+lake+weevil+rancher&_sacat=0

Inline Image Not Displayed
You can see how bad giant salvinia is in the backwater areas by watching this short video from July 31, 2012. Conditions have only worsened since then. https://www.youtube.com/watch?v=zPviYMGy3nM
Your support will help save the only naturally formed lake in Texas so that future generations can enjoy it as much as we have. Please forward this email to anyone you think might want to help save Caddo Lake.
Thanks,
Jack
MHS 50th Reunion Patriot Salute

Belladier David Hall places his hand over his heart as he rings a re-creation Liberty Bell during the MHS classes of 1960 and '61 Salute the Veterans event at the historic Harrison County Courthouse.


RINGING OUT OUR THANKS

The tolling of the Liberty Bell rang out across downtown Marshall Saturday while people sang and jet engines roared overhead.

The Marshall High School graduating classes of 1960 and 1961 hosted "Salute the Veterans & Military" Saturday on the east side of the historic Harrison County Courthouse.

"Our main goal is to get all of the veterans from the graduating classes and salute them," said Gerald Watson, co-chair of the Salute the Veterans Committee. "These two classes have over 70 veterans, so it is important to honor them."

One of the veterans, Joe Teodorezik, class of 1960 and the event's MC, said that on November 5 he will be honored in Charleston, SC, where he will be inducted into the Navy's Enlisted Combat Air Crew Row of Honor. He was a part of the U.S. Navy from Oct., 1961, to July, 1982, when he served in Vietnam. "I think today is a great time and tribute for all the veterans," said Teodorezik. "I really appreciate everyone who has come out today to honor the veterans."

The event began with a tolling of the "Liberty

Bell" 30 minutes before the ceremony. The bell is an exact replica of the Liberty Bell and travels around the country to honor veterans. "Our goal is to support those who serve in our military," said Phillis Hall, owner of the Liberty Bell. "This is a great event, especially when the overall goal is to honor fallen soldiers."

The 2,500-pound bell has been to over 500 funerals since 9/11 and has traveled about 50,000 miles across the states. "This bell is a history icon because it focuses on doing one thing; just as the original bell rang for fallen Presidents, we ring it for fallen soldiers," said Ms. Hall.

The Marshall High School ROTC Color Guard, Marshall High School Big Red Pride marching band and the Texas Patriot Guard Riders


A young girl pulls the rope to ring the Liberty Bell replica, while others wait in line during the MHS classes of 1960 and '61 reunion event Salute to Veterans.

were also in attendance.

"We were asked to come out today for veteran appreciation day, and that's what we do," said Texas Patriot Guard Riders Captain Mike Eubank.

The riders escort fallen veterans from their arrival at the airport, train station and such, to the funeral home and, on the day of burial, escort the fallen soldier from the funeral home to the cemetery.


John (Jackie) Graff, MHS '65 and Air Force veteran, gives the Maverick hand signal as he sings the school alma mater.


Michael Johnson, MHS '80 and Army Airborne, 82nd division veteran, salutes during the singing of the school alma mater.


"This is just a fantastic event. It is what we are. We are from all walks of life, and we are here to honor veterans for all different purposes and different ages," said Eubank.

The ceremony concluded with a fly-over by the U.S. Air Force of an A-10 Thunderbolt II from Barksdale Air Force Base in Shreveport, LA, and a Commemorative Air Force of Texas fly-over of five to ten vintage aircraft from World War II, the Korean War and the Vietnam War.
Rebuilding Big Pines Lodge to begin this fall

An East Texas icon is making a legendary comeback with construction set to begin this fall on the new & improved Big Pines Lodge.


"Before the rumors started, we wanted to get the word out that we are starting back & have not sold to anyone else," said co-owner Kevin Allen of Marshall. "It's not going to be condos or townhomes there. We are still going to build the restaurant & with the look we wanted."

Big Pines Lodge was a favorite of families for more than 60 years before it was claimed June 6, 2009, by a tragic fire. While plans to rebuild the restaurant began right away, flood regulations along the hauntingly beautiful Caddo Lake have made the process time & energy more intensive.

If it weren't for the flood, it would have already been built, but the new flood regulations are extensive & costly," said Allen.

Fresh lumber went up in smoke with the rest of Big Pines Lodge on that fateful day, as Allen & his family had started restoring the old restaurant to look more like it had during the 1950s & 1960s, a retro look they still hope to achieve.

"When we bought the restaurant, we were restoring it to its look in the 1960s. We went back to the pictures & found it was a great place in the 60s & had started that before the fire," said Allen. "The kitchen will be bigger & better. But on the outside, we're going to try to keep it with the old 1960s look."

Allen & co-owner Shell Sanford of Jacksonville have turned to Marshall's Gary Closkey of Closkey General Contractors for non-traditional solutions that will also keep the structure within the flood regulations.

"We got notice we were going to have to build it 6 to 7 feet in the air. We have been fighting this for months, and Closkey has done a great job in creating a plan to keep it on the ground with a lower foundation," said Allen. "However, we will have to put a pumping system in the floor & build with water-tight walls. We also have to have a special drain system & everything above ground like the air conditioner."

The modifications to the plan required "a total re-draw" from what was planned & almost became too expensive.

REELIN' 'EM IN

UNCERTAIN - The cast & crew of "Uncertain, TX" took over the home of Cecil Jones for filming Friday. The landing of Jones' home will be featured in the thriller that includes location shots from Marshall, Jefferson and Caddo Lake.

"We will be filming all of this on location," said Adam Donaghey, producer. "Today, we're shooting a scene with Johnny Fletcher, who captains the Swamp Thing."

During Friday's filming, visitors were welcomed to the set to watch as scenes with Fletcher, owner/operator of The Swamp Thing Tours, were performed. Fletcher delivered lines across the brown water of the lake, spotted with lily pads and hopping with green and blue dragonflies. "I just need to keep things moving along," said David Harstein, assistant director, in a hurry and meaning it.

The Dallas-based crew just wrapped on "Wuss" two days before filming began at Caddo Lake. The whole production will be done by a crew of about 20 and a cast of five -- a small footprint that's hoping to make a big impact.

The script for "Uncertain, TX" was co-written by its director, Eric Steele, and its lead actor, Hunter Wood, whose visit to Marshall's Three Oaks B&B inspired the plot and even a few changes to its exposition. "They were here and decided that Three Oaks is such an amazing space, unique, and they wrote the whole thing around that," said Donaghey.

While the B&B is in Marshall, the magic of movie-making will place it conveniently at the lake shore, so the film can include the most fitting locations for the thriller.

Shouts of "Quiet, please! We're rolling!" echoed through the bald cypress trees and filtered down through Spanish moss hanging both from the trees and Fletcher's Swamp Thing craft. As the dock shook so did the camera. "There are many stumps in the water at Caddo Lake," mused Steele. "But it's beautiful. Hunter and I were here a few months ago, and we met Johnny when we took a tour."

The two friends had never seen anything like the lake's "other worldly" views and potential for this type of film. "The film has five characters, and there are two latent characters -- this lake, with its mood -- and the Three Oaks B&B for its flair," said Steele. "It isn't very often that a scene incorporates nature that really alters the mood of the film."

Setting the mood was important in developing the action of the film, which follows two drifters who take shelter at the B&B after they assume the identities of other expected guests. The drifters, however, are the ones in for a "brutal" ending, as the owners have plans of their own. "We wanted to have a story about a couple going to an exquisite home and getting tortured. But we decided it needed to be two people taking advantage and then becoming victims," said Wood. "We started rewriting the moment we found Three Oaks."

They were also inspired by lead actress Caroline White, who was selected for her role before it was ever written. "We knew she had to play our lead, and everything changed," said Wood, who promised a "brutal" ending.

MARSHALL NEWS MESSENGER, AUG. 14, 2010
For you ex-patriates who would welcome a little taste of home from time to time, this page will link you to some articles & photos from the Marshall News Messenger in order to satisfy your cravings.


Texas' Mystical Caddo Lake Beckons Visitors
Visitors to east Texas' Caddo Lake find 'hauntingly beautiful' tree-lined waterways
By JAMIE STENGLE
The Associated Press
UNCERTAIN, Texas
As Capt. Ron Gibbs navigates his pontoon boat down a narrow waterway lined with bald cypress trees dripping Spanish moss, he shuts off the motor. The only noise punctuating the silence is birds calling as the boat glides under the bright summer sun on Caddo Lake.
Visitors to this lake tucked away in Texas' forested northeast corner find a mysterious labyrinth of swamps, sloughs and bayous, home to a vast array of wildlife from owls to eagles to alligators. A boat tour of the lake takes visitors through seas of bright green water lilies, down shaded watery avenues and past islands of dense forest.
"There are some areas that are so primeval it'll make the hair on the back of your neck stand up," said Gibbs, whose Graceful Ghost Steamboat Company Inc. is one of several outfits offering boat tours of the lake. "It's a supernatural feeling. It's downright spooky in some areas."
"It's hauntingly beautiful. It's an enchanting lake," Gibbs said.
The lake's "flooded forest," which has trees that are more than 400 years old, was created when the lake level rose after bald cypress trees germinated on the dry lake bed in a low-water period, said Todd Dickinson, park manager of the state's 484-acre Caddo Lake State Park.
Tourists are drawn to the lake and state park, which is bordered by the 8,000-acre Caddo Lake Wildlife Management Area and the 7,000-acre Caddo Lake National Wildlife Refuge, for the camping, boating, kayaking, bird watching, hiking, fishing and hunting.
The 27,000-acre lake about 170 miles east of Dallas straddles the edge of Texas and Louisiana, where it becomes open water.
Dickinson said each season offers something new on the lake. In the summer, the lake shimmers under the hot sun and the vegetation is in full bloom, showing off bright greens and colorful flowers. By fall, the bald cypress trees are turning a rusty red, and when the temperature drops in the winter, the lake takes on a silvery glow as the trees lose their leaves. In the spring, more fisherman appear and the lake begins getting greener.
"This lake just comes alive with something new each week," Gibbs said.
A first glimpse of the lake can be bewitching.
"It looks very prehistoric. Really magical, enchanting, otherworldly," said Vanessa Adams, a biologist for the wildlife management area.
Bird watching can be especially interesting, said Adams. One a recent summer afternoon, there were great blue herons wading in the water.
Adams said that in the fall, when wading birds are doing their "post-breeding wandering," there can be some unexpected sightings in the swampy lake.
English sisters Marilyn Jones and Anita Harris from Liverpool made a stop on Caddo Lake as part of a tour of Texas after reading about it in a guidebook. They said the lake did not disappoint, with Jones describing it as "brilliant, beautiful."
"The atmosphere is just completely different," Harris said.
About 17 miles west of the lake, visitors will find the genteel town of Jefferson, which has its own historical ties to the flooded forest.
Now a small community of elegant homes, antique stores and bed and breakfasts, Jefferson was once a bustling river port, with steamboats traveling up the Mississippi River from New Orleans to the Red River, through Caddo Lake and down Big Cypress Bayou to Jefferson. But in the 1870s, a "log jam" on the Red River above Shreveport, La., was broken up, opening up the main course of the river and lowering water levels so much that steamboats could no longer make it through to Jefferson.
With its tree-lined lanes of antebellum homes and a downtown square near the Big Cypress Bayou, the town makes a relaxing stop. For elegant dining after a day on the lake, try the Stillwater Inn, located in an old Victorian home.
"The beauty of coming to Jefferson is you can come in, park the car, throw away the keys and walk everywhere," said Juanita Wakefield Chitwood, executive director of the Marion County Chamber of Commerce.
Far away from the bustle of Texas' big cities, and a marked difference from the open prairie and desert that people often associate with the state, Caddo Lake and its surrounding forests offer something different.
"It's not like anything else in Texas, that's for sure," said Rick Lowerre, president of the Caddo Lake Institute, a nonprofit founded by musician Don Henley to help protect the lake.
"That flooded cypress forest, thousands of acres of it, is pretty magical," Lowerre said.
———
If You Go...
CADDO LAKE STATE PARK: http://www.texasstateparks.org
GETTING THERE: Uncertain, Texas, located on Caddo Lake, is about a three-hour drive from Dallas or an hour from Shreveport, La.
GRACEFUL GHOST STEAMBOAT COMPANY INC.: http://www.gracefulghost.com or 877-894-4678. Boat tours offered Tuesday-Saturday (closed Sunday-Monday except holidays). Adults, $20; children through age 15 are charged $1 for each year of age. Graceful Ghost is one of several boat tour companies in the area.
JEFFERSON: http://www.jefferson-texas.com/
STILLWATER INN: 203 E. Broadway, Jefferson, Texas; http://stillwaterinn.com/ or 903-665-8415. Entrees, $21.50-$45. Dinner reservations required Friday and Saturday nights; recommended Tuesday, Wednesday and Thursday. (Dining room closed Sunday and Monday.) Cottage rental, $130 a night.
CADDO LAKE WILDLIFE MANAGEMENT AREA: http://tinyurl.com/32qkero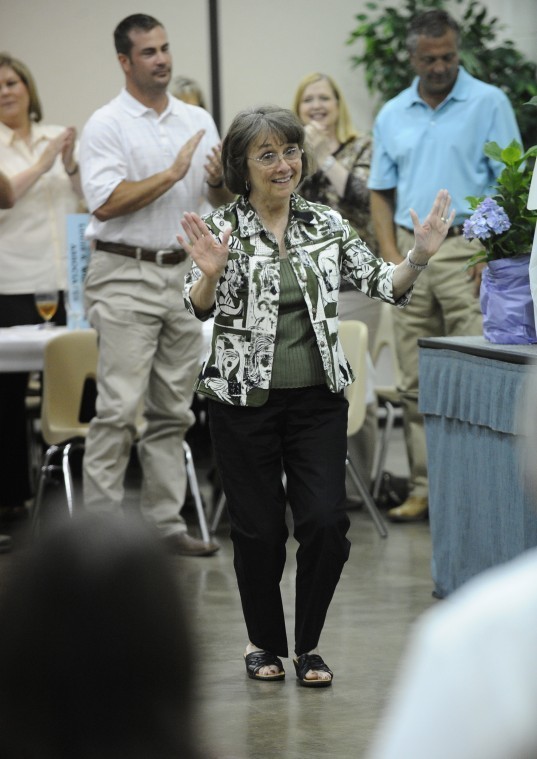 Sharon Broadus, part owner Lewis A. Williams Insurance, walks to the podium after winning the Boss of the Year award during the Business and Industry Appreciation Luncheon Wednesday at the Marshall Convention Center.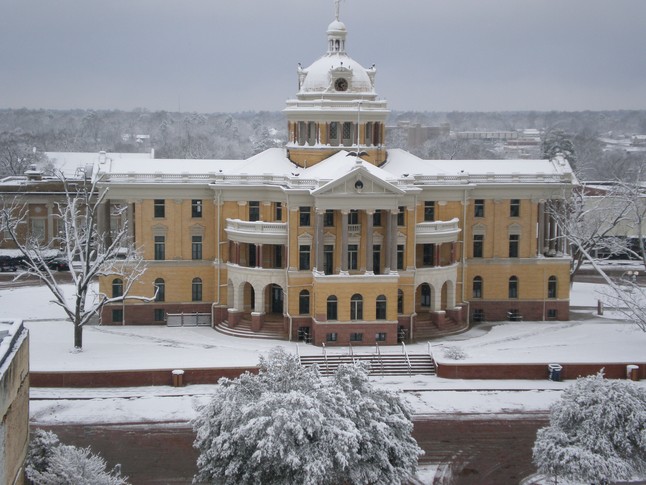 Now, it just doesn't get prettier than this, does it? 2/12/10

Sam's Cool Video - 2/12/10
Now remind me once again, why ya'll are still livin' in Texas??????
And for you masochists, Click Here for more photos of the BPL fire.

Historic Sam Houston School lost to fire.
Very sad news. This long-abandoned Marshall landmark succumbed to a fire yesterday about 2 pm. A report with photos can be read at the Marshall News Messenger Online. According to the news report, the fire apparently started in the basement and arson is suspected.
This building has been one of the hard luck stories of Marshall for the 15 or so years I have been involved there. We have twice conducted studies for the building's restoration, once as a Head Start center and more recently for conversion to multi-family. This past effort got so far as the client acquiring adjacent land. Ultimately, however, the project fell apart and the last I heard, someone else was considering both residential and a basement level restaurant. Nothing has seemed to get past the planning stages. Just yesterday morning I mentioned it to a potential developer who was looking for opportunities with historic buildings. 3 hours later, it was gone.
In any event, this is a painful loss for for the community and for me personally. At one point, I had been away from Marshall for several years when new opportunities called me back. As I drove into downtown on East Houston Street as I had done so many times before, I was a little surprised and relieved to see the Sam Houston School, still vacant and boarded up, but still standing as it had for many decades. Maybe I hadn't been gone that long after all.
3 indicted in Sam Houston School fire
Font Size:
Posted: Thursday, April 29, 2010 7:58 am | Updated: 8:01 am, Thu Apr 29, 2010.
Three suspects, arrested in connection with the Jan. 13 fire that destroyed the historic Sam Houston School, were indicted by a grand jury Tuesday for arson.
Indicted were Gavin Douglas McKinley, 17; Jacob Charles McNabb, 27; and Steven Glenn Murray Jr., 18.
About 25 Marshall firefighters worked the scene, fighting the blaze for hours. The building, however, was declared a "total loss."
Reginald Cooper, fire marshal and assistant fire chief for Marshall Fire Department, actively investigated the fire along with fire inspector Bill Kelly.
During their investigation, they learned that the three suspects were in the building, nicknamed the "Pink Prison, at or near the time of ignition.
As a result, McNabb and Murray were arrested Jan. 26 as persons of interest in connection with the fire and McKinley was arrested Feb. 9.
All three individuals ended up providing law enforcement with statements concerning their involvement, Harrison County Criminal District Attorney Joe Black explained to the News Messenger in a Feb. 12 article.
"Depending on evidence (presented), the defendants may be (found) guilty on reckless or intentional (arson)," said Black in a telephone interview Wednesday.
The historic building, 1203 E. Houston St., was first opened in 1905 and closed in 1981, according to its marker. It was designed by then-prominent architect C.G. Lancaster and had been vacant for years.
Matthew Hatch and Juli Jameson of Jameson-Hatch Properties purchased it five years ago from Marshall Independent School District as a re-sale property. Ms. Jameson described the fire as a "great loss" and "crushing."
"It just wasn't any old fire," she said in a previous article when the third suspect, McKinley, was arrested. "That building would've stood another 200 years.
"It embodied a lot of sentimental history for people in this town," she said then. "This city lost something."
The fire was believed to have been started in the basement.
Name

Function

Writer, Humorist, Columnist, Editor

Mailing Address




Jefferson

,

Texas

Location

Phone/FAX

POC

Email

Website

Description

Lad Moore:

The author is a former corporate vice-president who left the boardroom and returned to his roots in "Deep East Texas"---the fountainhead for much of his writing. He retired to a small farm near mysterious Caddo Lake and the historic steamboat town of Jefferson, where field chores and writing seem to balance his energies.

Lad's life experiences are splashed freely into his writings. His early years were like a free pinball, bouncing among caring family members between stints at military school. His parents divorced early, and his father was always away--following his dream, soldier-of-fortune style. Much of Lad's life was high adventure--his time in strife-torn Indonesia, the wilds of post-war Burma, and a year on board a steamship-freighter sailing the world. In high school Lad joined a circus--only one event in a series of rites of passages that he reflects upon in his stories.

Lad has been published more than 600 times. His collection of stories about various 'scalawags' titled "Odie Dodie" is available at all major booksellers or directly from the publisher, BeWrite Books.

His second published work, "Tailwind," is a 40-plus story collection of memoirs--true accounts of growing up in East Texas in what Lad calls his "Days of Cottonmouths and Cotton Candy."

His most recent collection of stories, "Riders of the Seven Hills" Tales in Red Clay and Blue Denim" completes his trilogy. This volume is filled with stories of his East Texas youth and some accounts of "local legends" most people from the area have only heard rumors about.

Hundreds of the author's other works have appeared in venues such as Carolina Country, Amarillo Bay, The Pittsburgh Quarterly, Paumanok Review, Eclectica, Manx, Danforth Review, Literary House, The Virginia Adversaria, Adirondack Review, and in AIM, America's Intercultural Magazine, among others. A four-story collection, "Natcherly Bad," was published in Creativity Magazine. A heartwarming family story, "Final Approval," was included in Chicken Soup for the Bride's Soul, one of the latest in the Chicken Soup line of NY Times Best Sellers.

Lad's prize-winning story, "The Firmament of the Third Day," was published in the Best of Carve Magazine Anthology. "Burger Recollections," a East Texas burger-shop memoir, was published in the Food Encyclopedia, "ABC's of Food" at Peach Blossom Press.

Mr. Moore is a past winner of both The Wordhammer Award and the Silver Quill. His short story "The Day Hunter" was nominated for the 2002 Fiction Award at The Texas Institute of Letters.

Lad's most current work can be found in the Adams Media Anthologies including four titles of "Rocking Chair Reader" and three titles in the Cup of Comfort series. Each is available at booksellers and at larger Wal-Mart stores.
This about Lad Moore is also from Ron's EastTexasTowns website.
Here is a video just for the fun and good music of it.
EDDIE BAYES
MAY HE REST IN PEACE
You will likely remember our High School friend, Ed Bays. Eddie was a year ahead of us in school. I got word this morning that he died. I last saw Eddie about 6 months ago, not long after our 50th reunion. He wanted to know all about his friends in our class. He was a good guy in high school, and even much more after we grew up. In high school, he was among the best liked by everyone. After college, was an oil and gas landman and lived in Longview for years. He and our classmate Donald Jones were closest friends for perhaps 20 years before Donald died. Eddie loved class reunions and was a huge help in planning and executing the Mav Millennium reunion (2000) which included his class of 1959. Eddie will be missed. I'll remember him as a friend, always willing to help, unfailingly positive and upbeat, and always with a smile on his face.

Sam
Story from Dr. James Harris:

OLDER THAN LOVE
Today I remembered a big turtle that I'd seen on our ranch when I was twelve.
He was old, maybe a hundred years? And big. Almost a hundred pounds? I'd not thought about that turtle, or any turtle, in over sixty years.
My father had hired a crew of colored men, and me, to thin several hundred acres of hard wood flats along a big East Texas creek, Potters Creek. It runs through our land just a few miles before it loses itself in the Sabine River, which in turn drifts on laconically to the Gulf of Mexico, several hundred miles to the south. Were Potters Creek located anywhere but rainy East Texas, it'd be called a river. Through our land, it was about fifteen feet wide and several feet deep even in most droughts. The flood plain along the creek was too wet for pine trees to grow, and hard wood had little commercial value; however, if the foliage was opened up and thinned out, cattle could utilize the land during dry or cold weather. Hunting leases in those days, the early fifties, had minimal value; most folks had neither the time nor the money to hunt, and the deer and turkeys had been hunted out during the depression and the wars. There were still some squirrels, ducks, feral hogs, and the occasional goose.
My daddy had grown up working and had never stopped, even when he became a medical doctor. By his own incessant hard work, he had earned the money to buy a nice sized tract that he and the bank owned together. He didn't really understand mechanics, but he was innovative and had learned about a portable gasoline powdered router carried in a backpack that would "dead shot" unwanted trees. The operator would gouge out (girdle) a one-inch wide circle around trees, which removed a strip of the bark and the outer layers of wood. This procedure destroyed the circulation of the tree. The culled tree's demise was then made almost certain by a poison that was sprayed onto the tree's wound. Over the years, the treated trees would die and open up the canopy to sunlight and promote more efficient tree growth,or so it was said. For a patient rancher, the cost of this type reclamation was reasonable.
The boss of the crew, Freed Lee, was almost owned by a semi-sorry uncle of mine from up around Jefferson. He had helped my uncle with a chicken farm. In those days, fooling with chickens was considered to be about the least glorious way there was to make a living, and it also ruined one's taste for fried chicken. When his chicken business failed, my uncle bought some cows. But various debts from the disreputable enterprise left both my uncle and Freed Lee owing my daddy some pretty good money. So Daddy borrowed Freed Lee for a summer in payment for some of the debt.
Freed Lee claimed his momma had misspelled his name on his birth papers. However, he later told me that she may have gotten the name the way she wanted it, since her mother had been a slave. Anyway, he asked us to call him Fred Lee or Freddy, but nobody except my daddy and me complied.
Freed Lee was about forty, short and stocky but strong. Invariably, he was cheerful and had a genuine smile, that was often, and which was enhanced by a mouthful of big
2
white, perfect teeth. He must have been a church going man, because he constantly
hummed hymns under his breath while he worked, or, more commonly, watched us
working. He mostly observed and bossed, although he would on occasion swing an ax and
run the girdler machine, which was usually handled by an old man named Love.
From the first time I saw him, I was fascinated with Love. He was old, but completely
muscular and lean. He must have been six and a half feet tall and likely weighed over two
hundred pounds. His arm and chest muscles were long and well defined and honestly
developed. He rarely spoke, but when he did, it sounded like God was talking — with a deep
low rumble that a preacher would have died for. He was a retired railroad laborer with fifty
odd years of service on several different railroads. He had worked all over the country, and,
when he finally was forced to retire, he was given a pass, which permitted him to ride any
railroad to any destination in the United States that he wished — in coach. He allowed as
how he rarely used the pass and had no plans to quit working. He had lost track of just how
old he was; well, really, he never knew his age for sure, but he thought he was over seventy.
The railroad said he was that old, and so it was official. Love could sharpen a double bit ax
to a scalpel-like edge with an ordinary file; he never let the ax get dull. Every now and again,
he would hold his axe by the tip of the handle with one hand and with his arm extended, let
the ax tilt backwards to his forehead. I figured that he was not showing off his strength to
the crew; rather, he was testing himself, his strength, and his determination. He could also
shave with the ax and did — probably showing off then.
I got Love to teach me how to sharpen an ax, a skill that I still find a use for. He also
taught me how to handle myself and work in the woods while always watching for danger,
especially snakes. However, I never was able to get him to talk about himself or about his
family, or if he even had one.
The third member of our crew, Bobby, was a wiry boy of about fourteen who swung
an ax all day clearing out underbrush. He was pleasant but rarely talked. He never seemed
to get tired and earned every penny he was paid. Bobby had quit school when he was ten.
Over the course of the summer, I appreciated his native intelligence and integrity. He had a
girlfriend and knew some things that I'd not even begun to dream about. He taught me to
chew tobacco, which I enjoyed after first having A couple of bouts of vomiting. We rolled a
few cigarettes, but it was just too hot in the woods to smoke. None of the crew cursed
much, except me — from hanging around cowboys all my life. These were likable,
intelligent, industrious men who worked hard all day with only rare complaints.
I was the low man on the totem pole. Now twelve, I was fixing to start the seventh
grade. At first I resented working on the ground; I was already pretty good on a horse (and
in a corral full of cows). I'd been running old John DeerE tractors for several years. I drove a
pickup on the ranch and on back roads sitting on a couple of cushions. I drove on the
highways when I was with my dad. He was not a good driver because he was always looking
out of the windows at cows while he drove. My mother made sure I learned to drive correctly
and made me go with him on cattle buying trips to Oklahoma, Mississippi, and Tennessee
(which were some of the best days of my life).
3
My job on the crew was to follow Love and spray poison on the girdled trees from a five-gallon pump up sprayer. If I had slack time, I'd pick up an ax and help Bobby. In fact, I saved my money and bought myself a double bit ax, but it was a little smaller than Love's.
It didn't take Freed Lee long to figure out I was trying to build up some muscles that summer, and I did. I was called "Little Doc" in deference to my race and to my dad's exalted position as a local physician, landowner, and cattleman. I was new to the crew, and they couldn't rightly call me by my name, Jim, because they didn't know me well enough, and nobody ever told them it would have been all right — and, I was white and all. In one whole summer, none of them ever called me anything but Little Doc, although, mostly, they didn't call me by any name. In fact, for the first couple of weeks, they barely talked to me. They didn't know what to make of me and didn't know if they could trust me or not. This was some years back when a rural black man didn't have much social or close contact with a white man. On the other hand, I'd been around blacks all my life since we had a yardman who also drove the car some, as well as various maids helping and cooking in the house. I instinctively kept quiet and after a couple of weeks, the crew relaxed around me. They were satisfied that I was going to work hard and keep what I learned to myself. I'd have to say we were almost friends except for Love, who remained pleasant but wary.
We went to work after Memorial Day when Texas schools let out, and we worked five days a week all summer until just before Labor Day. We took off the fourth and Juneteenth. This was the only summer job that I ever had that took Saturday off. We'd get paid on Friday. Freed Lee was making a dollar an hour plus gas, and maybe a little dab extra for using his car. Bobby and Love made six bits an hour, and I drew a half dollar. It was pretty good pay since most labor brought thirty to fifty cents an hour.
As the summer went on, it got hotter in the breezeless bottoms where the humidity was so high that sweat couldn't evaporate and cool you. We took to eating lunch in the shade along Potters Creek sitting on the fenders of Fred Lee's forty-seven, black, four door Chevy sedan.
Potters Creek was clear; Fred Lee said it was as clear as good moonshine. You could see the bottom, even though it was four to six feet deep much of the time. The banks were mostly vertical, and the best way to cross was to walk or crawl across a downed tree. By July, it got to be so hot that we started taking an hour off for lunch and a nap on the ground. We had ice water and often R C Colas. My lunch generally included sardines, bologna sandwiches, Vi'enna sausage, summer sausage, and rat cheese or Velveeta along with raw onions, tomatoes, and soda crackers and peanut butter — all the major food groups. I sometime brought a boiled egg as well. The rest of the crew usually ate about the same as well as thick, greasy sandwiches from home, wrapped in wax paper. We didn't bother with fruit or deserts or anything that would melt.
By late July, it was so hot that Bobby and I decided to take a swim in the creek that was never too far away from where we were working. I don't know why it took us so long to try this. He stripped off, but I was embarrassed to get naked in front of the crew due to my skinny, immature, white body. So, I kept on my underwear. The crew never said a word
4
about my various inadequacies, which made me a little braver as the summer went on. Although the creek was generally about fifteen feet wide this close to the river, there was an even wider, shallow spot nearby, where a small branch ran into the creek and where there was a gravel bottom. The bank was washed out enough that we could easily climb down into the creek. I could swim but I wasn't sure about Bobby. We flopped around in the cool clear water, not knowing the water's pristine appearance was due to lignite contamination from a manufacturing plant about twelve miles away in Marshall. They were said to dump their waste in the creek causing the usual turbid and creek colored water to clear up.
One noon, it was just too hot even to eat, shady or not. Bobby and I raced for the creek, getting shed of our clothes as we ran. Just before we hit the water we saw him — the biggest turtle anyone had ever seen around East Texas. He had to be a hundred pounds, or thereabouts. He had ridges on his shell that made his skin like an alligator's . He looked like a dinosaur's to me as he sat in the water facing into the current.
We dasn't get in the water and yelled for the crew to come over. Freed Lee came over, humming as he waddled, watching the ground all the while for rattlesnakes and moccasins, and the sneaky but deadly little copperheads. He carefully inched up to the creek bank to get a good look. With his eyebrows raised up, he stood sideways and peered over his shoulder, maybe thinking the turtle wouldn't see him? After a couple of minutes of quiet observation, he sat down on the creek bank and studied continued to study the giant .
Finally, he said, "My lord, have mercy. Looky, looky, looky. So big! Hundret pounds? And that old man's might near a hundret years old. Ever bit of that. He be's older that Love."
He stood up and turned around, "Yo Love, come look at this old man. He's older that you is."
Love walked on over in his erect, dignified way, tall and straight, unbowed, almost regal, like a tribal chief. He glanced at the big turtle and said, "Y'all boys best let that old turtle lone. He's a alligator turtle, a snapping alligator turtle. He ain't goanna do nobody no harm no way if you just leave him be."
That sounded like a good idea to me, especially coming from the old warrior, but Freed Lee had other ideas. The turtle to him represented fresh meat for his family and us.
Meanwhile, the turtle paid us no mind; he lay in on the bottom with his beaked mouth open, hopping to entice a little fish to chase his long, wiggling tongue, which looked like a worm. He kept his head almost in his shell although, from time to time, his muscular neck would shoot his head out to catch fish.
After Love went back to the eating area and stretched out on the ground, Freed Lee said, "Bobby, y'all boys wade up behind him and chop him with the axe. We's can make a bunch of meals out of that big sucker. Don't let him bite you, boys. He could bite off your fingers, or your toes, or your little … you knows what's."
And so we did. We eased up behind him in about two feet of water, me behind Bobby, and Bobby buried a double bit axe into his back. Of course the turtle humped up and tried to get away. I had to help Bobby hold the handle of the firmly embedded axe as the old
5
turtle bucked and clawed, thrashed and swam in his death dance. It took awhile; it was at least half an hour before he died. Bobby and I were exhausted from holding on and dancing around to keep him off us. We tied a rope around his back legs and Freed Lee helped us pull him up the bank. Bobby and I splashed around in the water, trying to cool off, then we three carried him over to the car and put him in the trunk. We chopped up some ice around him to keep him cool. Freed Lee said he needed special tools and pans to clean him right. I was disappointed not to learn how to clean a turtle right then and there.
Love ignored all our commotions.
It was a Friday, and it was the only day all summer we left the woods early.
That Monday, Freed Lee brought turtle steaks, chicken fried, with some gravy on the side, and biscuits. The taste was not too different from the grass fed beef we lived on. Real good. The next day, we had turtle soup, which Free Lee said was one of his wife's special dishes. Next day, it was turtle salat, then turtle sausage, and then, finally, more fried. By the end of the week, we all, even Freed Lee, were getting tired of eating turtle. I yearned for some summer sausage and thick, hand sliced bologna with light bread and rat cheese. Happily, by Friday, the meat was gone. None had been wasted. Freed Lee even cleaned the shell and used it to store do-dads.
Love never ate a bite of the old turtle. He was always a taciturn man, but that week we ate the turtle, he never even said a word.
Now, looking back, I wish we'd listed to Love. If we'd left him alone, that old turtle would still be alive. He definitely would have outlived Love; he could have outlived all of us. The creek's still there, still polluted clear. In the bottoms we girdled, the trees did thin out and allowed the faster growth of splendid hardwood that we haven't been greedy enough to log. Yet.
I never saw another big turtle near the creek again, and for many years, I always looked as I rode horses through the bottoms catching cows or walking along the creek bank hunting deer and squirrels and ducks, or shooting hogs. In later years not infrequently some or all of my children were with me, and I'd usually pause when we hit my favorite shade tree lunch spots. I never thought to tell the kids about the turtle.
I never saw any of the crew again. I'd especially like to know how Love fared, and for how long and where. There's something sacred about a man, or an animal for that matter, that lived so long, so well, who saw so much — and did no harm.
I'm old now, maybe older than Love was back then, but I'd like to walk that creek once more before I die. I'd like to see a big turtle again, even though I might not deserve it. When I'm gone, so will be the last recollections of that summer, the big turtle, our crew, and Love.